While eating lunch at a meeting with a smart group of savvy, philanthropic, woke women, I found myself pinching my side fat looking for problems that were not even there. One wonderful friend mentioned to me that she wasn't eating bread. As I vehemently tore into my box lunch to eat my sandwich, I wondered if she was allergic or just didn't like bread.
I had a fleeting thought that maybe I shouldn't be eating bread and perhaps everyone in the room who I haven't seen in awhile could see how "fat" I had gotten. It briefly crossed my mind that her "I don't eat bread" statement was some kind of code for "girl can't you see how much weight you gained we sure can!"
I left the lunch feeling full and ready to continue my day. Although, somewhere in my consciousness I began plotting the start of my diet. That was until a few days after the meeting as I watched the fourth wonder of the world on stage shaking up my world and the world of women across the globe-Ms. Rihanna's performance at the Grammy Awards.
We probably have little in common but Rihanna has me questioning my whole life; as a Womanist,
Rihanna's magical brand of Bajan confidence has strengthened my resolve towards authenticity in my own body and I am here for every bit of the life she's living and giving.
As an over 40 year old writer living in the South, it's safe to assume that I'm not her target demo. The likelihood of exchanging sweet nothings at 4:30 a.m. with the mega platinum cultural icon as she is leaving one of her bad ass star-studded hype parties, is slim to none. However, should the opportunity ever present itself, I  would be compelled to ask…Rihanna will you marry me? Like seriously, will you marry me?
I know what you're thinking. "But you don't even really listen to my music or follow me on social media? How can we ever work? We won't ever work?' Well, before you place judgement in a haste to reject my offer, know that our commonalties may be so much more than either of us realize.
First that hot pink/red dress you wore and the art that you served at the 2018 Grammys was pure oxygenated soul which gave my thick body relief. The word "THICC" can sometimes be used as a weapon against black and brown women bodies a derogatory term or a term that objectifies our natural curves and amazing hips. When I say you allowed my virgin ears to snap into the lyrics and my eyes to partake of the energy of your joy, I was instantly both thankful and revolutionized.
In one performance, you slayed my world, the world, the world of girls and women who swivel their bottoms in their mama's showers learning traditional African dances with wet hair and bonnets on before drying off with Vaseline and baby oil. Truthfully, the slay goes beyond one performance on the worlds most coveted stage it propels women like myself to actually tune in further into their own sexuality, body image woos, and womanist feminist vulnerabilities.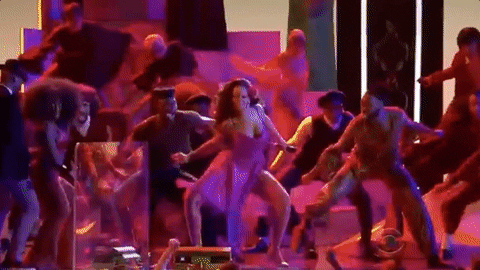 In a quote from wealthygorilla.com you posited, "It's tougher to be vulnerable than to actually be tough". I have been taking that in breath by breath recently. As a black woman from the south my mother, aunties, Sunday school teachers, all taught me how to be strong, tough, and not take shit from anyone.
Although this has had enormous advantages there is a softer version of myself that seeps from my wounds. The wounds of being over 337 pounds and bullied my entire childhood. Of having men look at my body as some science experiment that they commented on in uncomfortable and wary ways while women dragged my larger than life thighs for not being able to walk upstairs with the same veracity as theirs. Your existence is salve for some of those vulnerabilities.
For black girls bred on the politics of respectability, you give us permission to live life on our own terms.
Whether you're dancing, going for a midnight run for snacks and beer, or having lunch with friends; whether you're wearing clothes that make you feel sexy, comfortable, or pretty and fit in the skin and body you inhabit – your unapologetic way with yourself is worthy to be praised and celebrated. You are fine. WE are fine. And not fine in some sleazy marginalized tone but in the way the air caresses your face when it meets you each morning.
When it comes to defining fineness, from my perspective women of color are taught that thick or skinny-fat is better than fat-fat and that having large backsides will help you get and keep a man. The pictures of beauty that are recognized usually include a thin waist, no flab, and the bottom half of black or brown bodies larger than the top.
However, in some instances those same backsides are used as weapons against us manufactured tools for fodder in music videos and the like. When a black or brown women is proud of her style, her slay, and her overall appeal then we are seen as overly sexualized (a fantasy, a fetish) or are told we should be ashamed for getting on stage doing the most-when the most is our expression of our own body love-of our most vulnerable selves.
Body image in black and brown communities can sometimes be a topic that isn't touched upon much, if at all. According a recent survey conducted by The Washington Post and the Kaiser Family Foundation focusing on African American women, black women are heavier than their white counterparts and report having appreciably higher levels of self-esteem. Therefore if self-esteem is tied to how culture informs beauty ideals there needs to be space to have honest conversations on how black and brown cultures idealize black bodies which informs body image negatively or positively.
I don't have much in the way of answers mostly my own experiences. When I lost over 190 pounds I was too skinny for my black peeps and white people still called me fat. I never reached the mountain top of body acceptance or better yet body love only body neutrality, but I did find some balance in my thoughts concerning my black body. If I could be a happier size 12 who could eat pizza and cinnamon rolls on occasion with friends while wearing my signature short dresses showing my Grandma Washington's thighs that the generations gods gifted me with then I was really more satisfied with myself.
Happier in comparison to trying to only eat fewer calories, no sweets, no carbs, which sent my mood into a spiral of depression I believe. If I could walk daily in the park melanating in nature soaking up nature's air then I was happier than being inside a gym for hours attempting to reach an unattainable goal on the scale.
When I maneuver through my day in my skinny jeans that more or less I try to wear every day with crop tops that read some funky saying I feel tough and vulnerably-authentic-real. Who I truly am is a hell of a lot better than being some smaller or skinnier version of me that never was meant to exist. I was meant to take up space and to do it with elegance and with a pinch of Rihanna "stank."
Honestly, I don't get it when people fat shame or body shame any of us especially when I look at Rihanna, I am like "Where is her fat"? Ugh "I'll show you some skin and meat", but the misrepresentation is in the media's ill-informed retort and some poor lost souls who can't see the splendor of leaving women the hell alone about the numerical size on their backs. Consequently, this has caused some manipulation in black and brown communities on the ideal of beauty we were born to appreciate and celebrate as parades of black and brown culture bearers.
And finally, the artist Cardi B. said it best in a quick quip from an Instagram commenter on her body asking was she pregnant. Cardi B's response according to Instagram accounts "I'm just getting fat, let me fat in peace" snatched me back into my seat and further complimented my recovery journey.
Withstanding, I am vulnerable and tough and bold enough to express my wilder thoughts to Rihanna asking for her hand in a platonic marriage of sorts where we become friends in this skin game glowing with our power on fleek and our perfectly rounded faces made up to the "GAWDS" putting out thick thigh love into this cold lonely world for all to rejoice in and enjoy.
The magic and challenge of black girl body joy is being tough and vulnerable-and in the words of another idol the realest Cardi B, I will be eating bread, loving my 41 year old body in eating disorder recovery, and yes while "I fat in peace" according to Cardi B.
---
Don't Talk About It, Be About It: 5 Ways to Put Self Love Into Action
Comments
comments